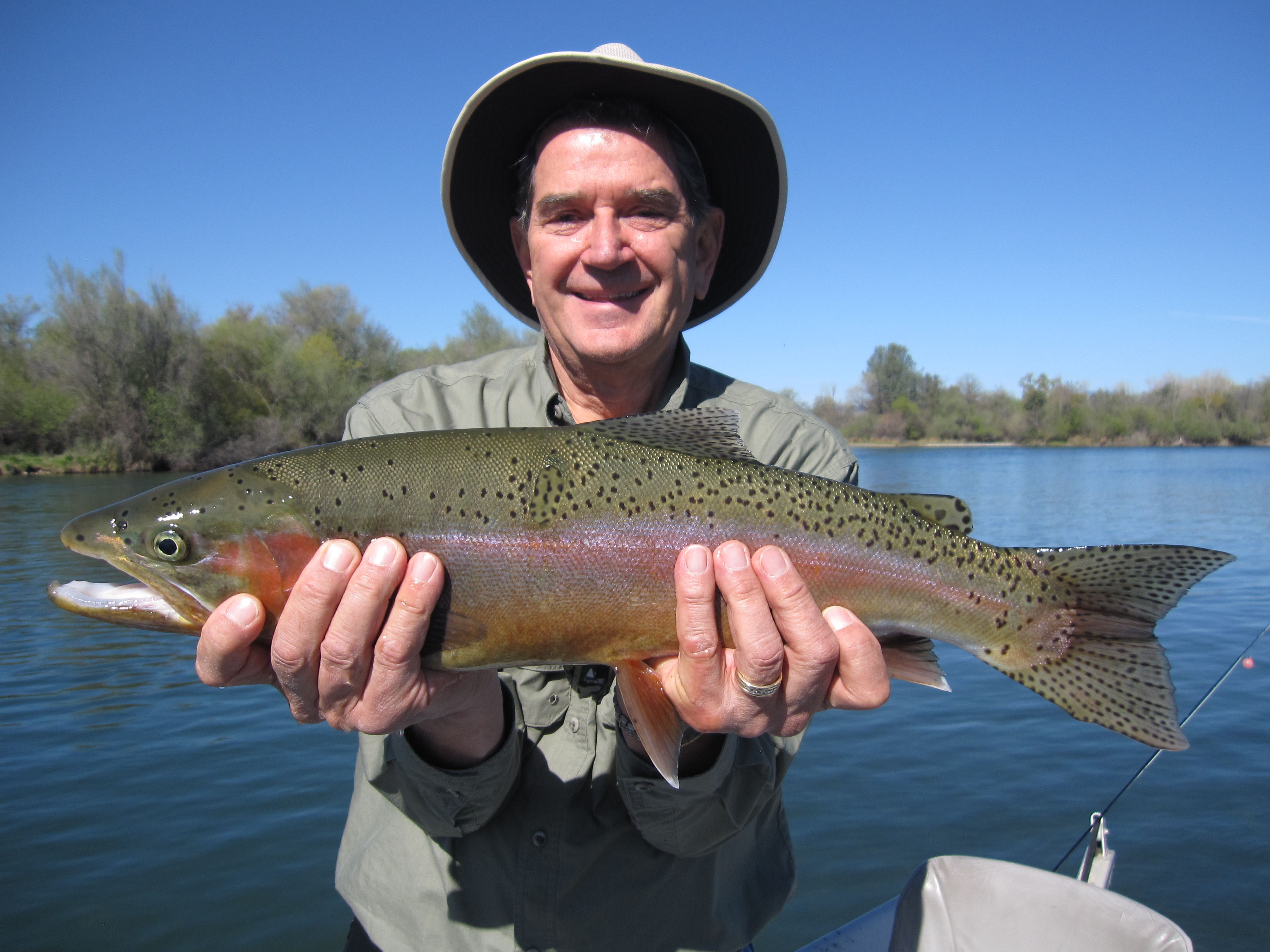 Lower Sac River
The Lower Sacramento River is arguably California's best trout fishery and flows from Redding to Red Bluff. This fishery often spoils you and makes you wonder why people from California ever travel to the Rockies to fish in the summer. The Lower Sac will rival most every trout fishery in the world with a fish population of 3,500 rainbows per mile. The cold clear water out of Lake Shasta creates an ideal habitat for rainbows, salmon, steelhead, and aquatic bug life. Being a tail water fishery the Lower Sac is fishable all year long and literally there is never a bad day to be out on the river. There is good fishing to be had on the Lower Sac every day of the year with the mayfly hatches in the spring, the caddis in the summer, the egg bite in the fall, and the blue wing olives in the winter. If you are looking for lots of big healthy rainbows then the Lower Sac is the place for you.
Feather River
If you have never fought and landed a steelhead or have struggled on other traditional steelhead rivers, then I recommend you book yourself a trip to the Feather River as it is California's most phenomenal central valley steelhead river. This tail water is open all year long, but we focus on this fishery in the fall and spring. These fish are hands down the hardest fighting bad ass fish in the valley. If you are into fish that love to jump, make big runs, rip your fly line off your reel, then this is the river for you. On the Feather it's quite common to hook and land over 10 steelhead in a day. Very few rivers in the country can boast of steelhead numbers like those found on the Feather River. Most of the steelhead we catch weigh between 3-7 pounds, but every year we hook fish that top the 10-pound mark. The best part about Feather steelhead is that they love to eat nymphs and swung flies. So whether you like to fish indicators or feel the wicked grab of a traditional swung fly then there is a challenge waiting for you.
Yuba River
The Yuba is yet another great California tail water fishery. The Yuba is much different than the other valley rivers as it feels more like a traditional trout stream. As the river winds its way out of the foothills down into the valley floor it creates great riffles, runs, and holes to prospect with your flies. These rainbows and steelhead don't grow as large as their cousins on the Lower Sac but they make up for it with their zest. Yuba rainbows are often considered the hardest fighting trout in Northern California. Like other valley rivers the Yuba fishes well year around. The beauty of the Yuba river is the ability to throw dry flies. The Yuba has a plethora of aquatic insects that call it home with skwalas, march browns, pmds, caddis, baetis, and hoppers, one can generally find a handful of rainbows that are willing to rise to the surface to slurp in your fly.
Stripers
As late spring arrives the true giants of the Sacramento River show up… the Striped Bass. From May through August, near Chico, CA, stripers begin to arrive in the river to spawn and feed upon the bounty of shad and squawfish that live in the river. Throughout the entire summer these stripers are an excellent pursuit on a fly rod. While most stripers will be "schoolie" size (2 – 5 pounds), the big stripers in the 15-25+ pound class also take up residence in the river. If you are a true trophy striper hunter then this is the fishery for you as each year we have chances of hooking a true fish of a life time. The best part about fishing for stripers on the Sacramento River is there are lots of normal sized stripers willing to eat your fly as you wait for the tug of that 40-50lber. Literally every cast you make could be a monster waiting to devour your fly. The nature of striper fishing is to cover lots of water so we use my custom jet boat to quickly move up and down the river looking for that next tug.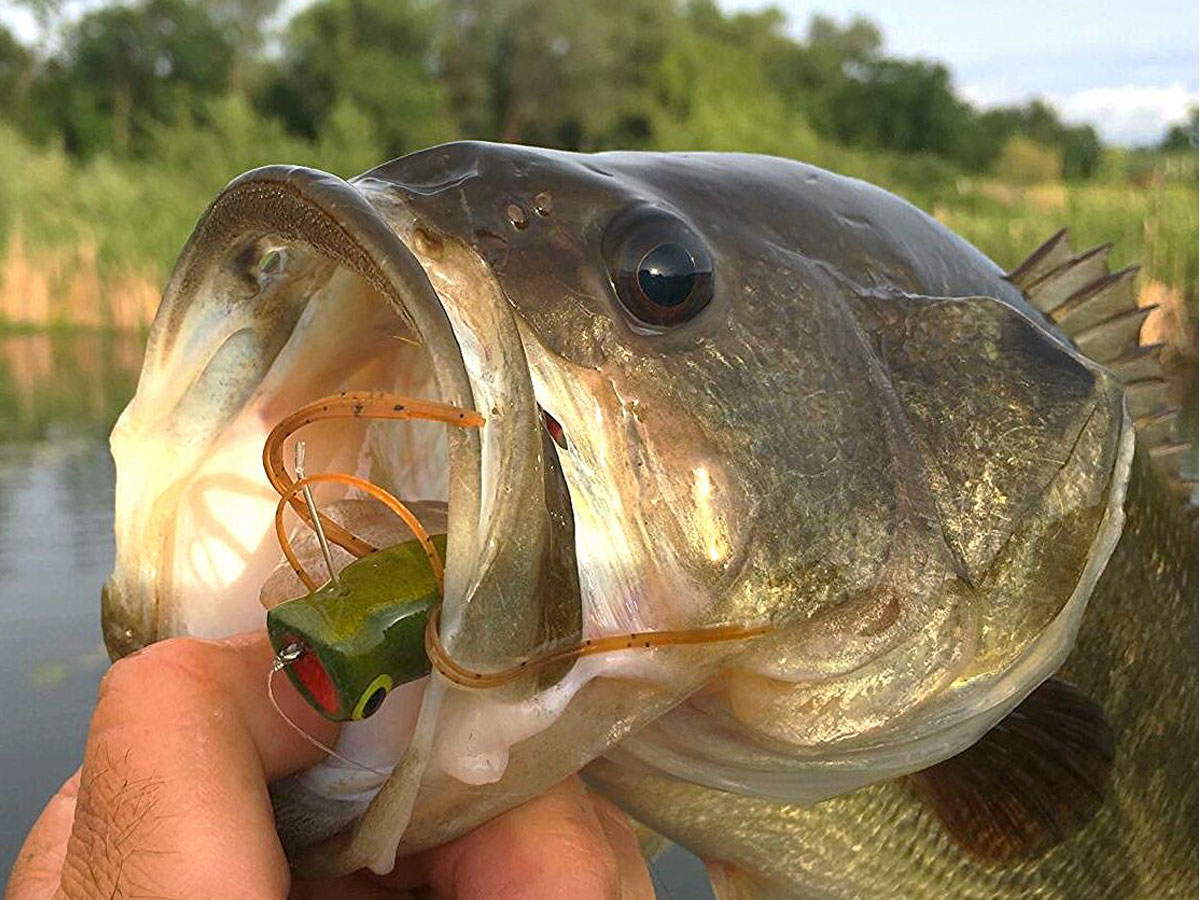 Bass
Sshhhh, don't tell anyone but bass are secretly some of my favorite fish to pursue with a fly rod. I absolutely love watching a bass blow up on a top water popper. I have access to ponds and sloughs where top water fishing is border line epic. In the late spring and early summer we have some incredible top water fishing near Chico, CA. If you are into watching bass fly out of water as they erupt on your popper then you need to come check out some of these fisheries. From smallmouth to largemouth we have spots that will make you want to come back for more.
Shad
Fishing for these silver slabs is ridiculous fun. We fish for shad with swung flies out of my custom jet boat near Chico, CA. These fish school up heavily in areas of the Sacramento River and can sometimes deliver non-stop action. If you want to pull on a bunch of fish in a short time frame then this is the game for you. Shad fishing is a great time for kids, wives, and anyone that just wants to hang out for a few hours and catch a bunch of fish. The season for the spirited shad is May and June. We only do evening shad trips as this coincides with the best fishing time of the day. Shad will range in size from 2 – 5 pounds and will pull so hard they might jerk the rod out of your hand.